1_Visiting the IHB
1_Visiting the IHB
Travelling from Nice Airport to Monaco 
Please note: prices given below are approximate and may be subject to change.
Bus service
The following regular NICE AIRPORT Express (Aeroport de Nice COTE D'AZUR) N° 110 , bus service between Nice Airport and Monaco, departs from Nice Airport (Terminal 1 + 2) every 1/2 hour between 8.45 and 22.00. This service, which travels to Monaco via the motorway (autoroute), takes approximately 45 minutes and costs 20 Euros per one way ticket. The service from Monaco to Nice Airport starts with the first bus departing at 06:45 then runs every 1/2 hour until 19:50. There are several pick-up/drop-off points in Monaco, which include: Allées Lumière (in front of the Park Palace), Place Sainte Dévote, Place d'Armes, Fontvieille (outside the Marriott Hotel) (ex-Ramada) and the Rose Gardens.
For further information click here.
Taxi service
An all hours taxis service is available at Nice Airport. The journey between Nice Airport and Monaco takes approximately 1 hour, and costs approximately 95 Euros.
Taxi + Train
A slightly less costly option is to take a taxi to the main Nice train station (in French "La gare Nice-Ville"), where there is a regular train service to Monaco and beyond. 
Regular Helicopter Service from Nice Airport to Monaco
There is a regular helicopter service, run by MONACAIR, between Nice Airport and Monaco. The journey takes 6 minutes and costs 160 Euros one way. This price includes minibus transfer between the Monaco Heli Airport and your hotel (in the Monaco area). Tickets can be bought upon arrival at Nice Airport from the Monacair desk, which is situated in the arrivals hall of the airport. See website : www.monacair.mc
Détails
Hotels
Adagio City Aparthotel - Palais Joséphine /
Address:
2A, Ave du General de Gaulle
06240 Beausoleil
Telephone:
33 4 9241 2000
Fax:
33 4 9241 2001
E-mail:

Cette adresse e-mail est protégée contre les robots spammeurs. Vous devez activer le JavaScript pour la visualiser.

Web:
http://www.adagio-city.com
Hotel Forum / ***
Address:
Place des Moneghetti
06240 Beausoleil
Telephone:
33 4 93789636
Fax:
33 4 93789638
E-mail:

Cette adresse e-mail est protégée contre les robots spammeurs. Vous devez activer le JavaScript pour la visualiser.

Web:
http://www.forumhotel.net/
Hotel Mediterrannée / ***
Address:
5 rue de la République
06500 MENTON
Telephone:
33 4 92418181
Fax:
33 4 92418182
E-mail:
 
Web:
http://www.hotel-med-menton.com/
Hotel Metropole Monte-Carlo / ****
Address:
4, av de la Madone
Telephone:
377 9315 1515
Fax:
377 9325 2444
E-mail:
 
Web:
http://www.metropole.com/en
Hotel Normandy / **
Address:
6 Allée des orangers
06320 Cap D'Ail
Telephone:
33 4 9378 7777
Fax:
 
E-mail:

Cette adresse e-mail est protégée contre les robots spammeurs. Vous devez activer le JavaScript pour la visualiser.

Web:
http://www.hot-no.no/web/
Hotel Port Palace / ****
Address:
7, Avenue John F Kennedy -
98000 PRINCIPAUTé DE MONACO
Telephone:
377 9797 9000
Fax:
377 9797 9008
E-mail:
 
Web:
http://www.portpalace.com/
Hotel de France / **
Address:
6, rue de la Turbie,
Monte Carlo
Telephone:
377 93302464
Fax:
377 92161334
E-mail:

Cette adresse e-mail est protégée contre les robots spammeurs. Vous devez activer le JavaScript pour la visualiser.

Web:
http://www.hoteldefrance.mc
Monte Carlo Beach Hotel / ****
Address:
Avenue. Princesse Grace -
06190 Roquebrune Cap-Martin
Telephone:
33 4 9328 6666
Fax:
33 4 9378 1418
E-mail:
 
Web:
http://www.montecarlobeachhotel.com/
Détails
Visiting the IHO Secretariat
Contact Information:
4b quai Antoine 1er
B.P. 445
MC 98011 MONACO CEDEX

Telephone: +377 93 10 81 00
Telefax: + 377 93 10 81 40
Email: please use Cette adresse e-mail est protégée contre les robots spammeurs. Vous devez activer le JavaScript pour la visualiser.
The International Hydrographic Organization and Secretariat are situated in Monaco.. It is headed by a Secretary-General assisted by two Directors and supported by technical and administrative personnel.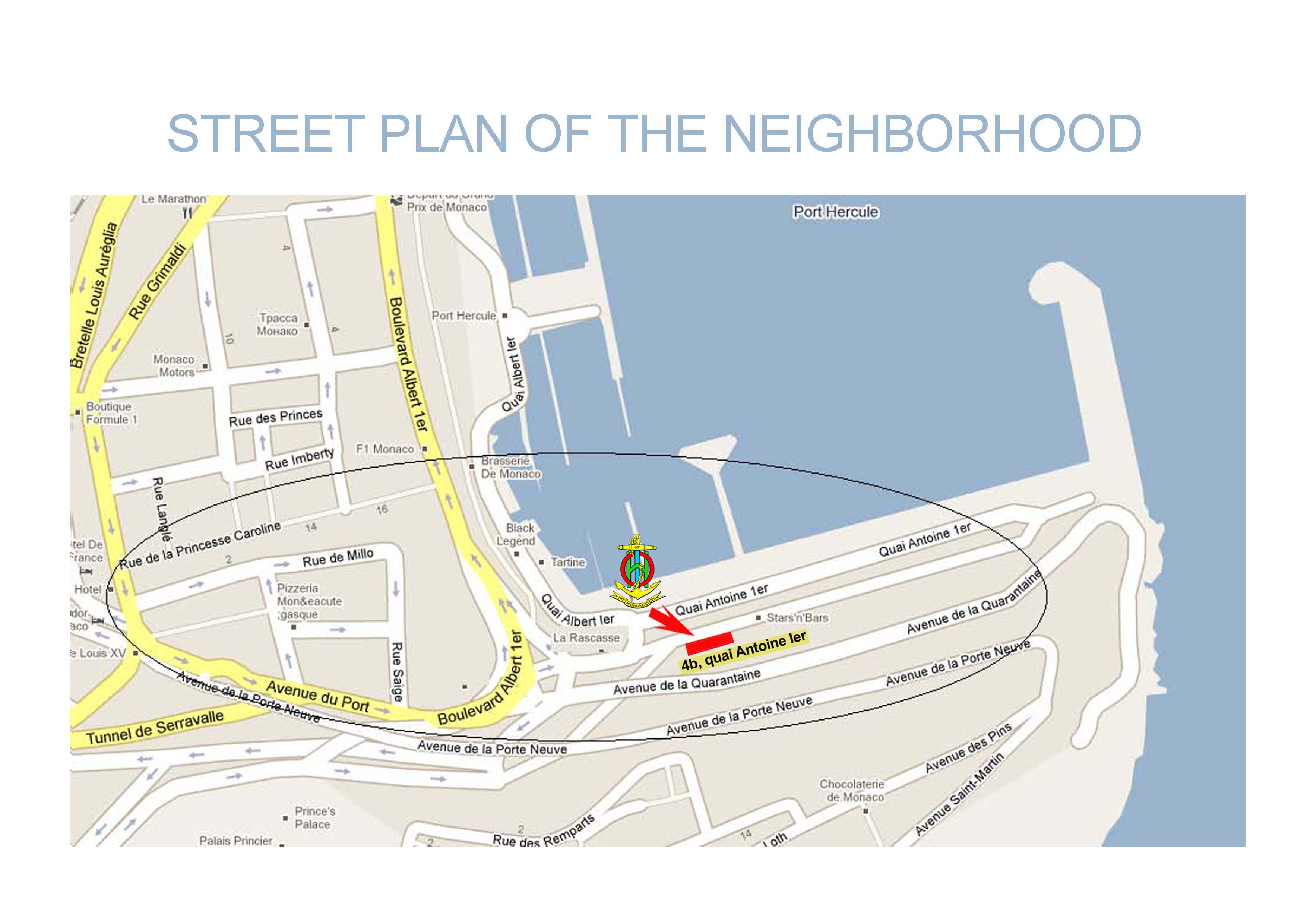 Hotels
Adagio Monaco Aparthotel - Palais Joséphine /
Address:
2A, Ave du General de Gaulle
06240 Beausoleil
Telephone:
33 4 9241 2000
Fax:
33 4 9241 2001
E-mail:

Cette adresse e-mail est protégée contre les robots spammeurs. Vous devez activer le JavaScript pour la visualiser.

Web:
http://www.adagio-city.com
Azur Hotel / **
Address:
14 Bld de la République
06240, BEAUSOLEIL
Telephone:
+33 4 9378 0125
Fax:
+33 4 9378 3008
E-mail:

Cette adresse e-mail est protégée contre les robots spammeurs. Vous devez activer le JavaScript pour la visualiser.

Web:
http://www.azurhotelbeausoleil.com
Hotel Ambassador / ***
Address:
10, Ave. Prince Pierre, MC.
Telephone:
377 97979696
Fax:
377 97979699
E-mail:

Cette adresse e-mail est protégée contre les robots spammeurs. Vous devez activer le JavaScript pour la visualiser.

Web:
http://www.ambassadormonaco.com/en/index.php
Hotel Boéri / **
Address:
29, Bld G. Leclerc
06240 Beausoleil.
Telephone:
33 4 93783810
Fax:
33 4 93419095
E-mail:

Cette adresse e-mail est protégée contre les robots spammeurs. Vous devez activer le JavaScript pour la visualiser.

Web:
http://www.hotelboeri.com/
Hotel Capitole / ***
Address:
19, Bld G. Leclerc
06240 Beausoleil.
Telephone:
+33.4.93.28.65.65
Fax:
+33.4.93.28.65.69
E-mail:

Cette adresse e-mail est protégée contre les robots spammeurs. Vous devez activer le JavaScript pour la visualiser.

Web:
http://www.hotel-capitole.fr
Hotel Forum / ***
Address:
Place des Moneghetti
06240 Beausoleil
Telephone:
33 4 93789636
Fax:
33 4 93789638
E-mail:

Cette adresse e-mail est protégée contre les robots spammeurs. Vous devez activer le JavaScript pour la visualiser.

Web:
http://www.forumhotel.net/
Hotel Miramar / ***
Address:
1, av JF Kennedy 98000 MONACO
Telephone:
377 9330 8648
Fax:
377 9330 2633
E-mail:
 

Cette adresse e-mail est protégée contre les robots spammeurs. Vous devez activer le JavaScript pour la visualiser.

Web:
http://miramar.monaco-hotel.com/index.php?p=3〈=fr〈=fr〈=en
Hotel Olympia / ***
Address:
17, Bis Bd. G. Leclerc
06240 Beausoleil
Telephone:
33 4 93781270
Fax:
33 4 93418504
E-mail:

Cette adresse e-mail est protégée contre les robots spammeurs. Vous devez activer le JavaScript pour la visualiser.

Web:
Hotel de France / **
Address:
6, rue de la Turbie,
Monte Carlo
Telephone:
377 93302464
Fax:
377 92161334
E-mail:

Cette adresse e-mail est protégée contre les robots spammeurs. Vous devez activer le JavaScript pour la visualiser.

Web:
http://www.hoteldefrance.mc
Détails